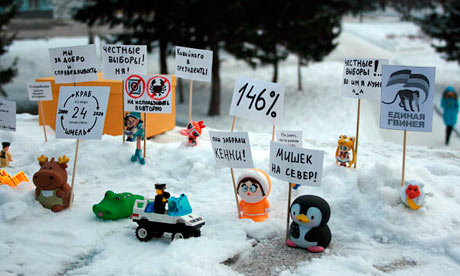 The toy protest in Barnaul, Russia, last month.
Photograph: Sergey Teplyakov/Vkontakte
Kevin O'Flynn in Moscow
guardian.co.uk, Wednesday 15 February 2012 10.23 EST
There hadn't been many – indeed any – rallies like it before in Russia. Last month saw dozens of toys, from teddy bears to Lego figurines, standing out in the snow of a Siberian city with banners complaining about corruption and electoral malpractice.

At the time, Russian authorities in Barnaul declared the protest "an unsanctioned public event".

Now a petition to hold another protest featuring 100 Kinder Surprise toys, 100 Lego people, 20 model soldiers, 15 soft toys and 10 toy cars has been rejected because the toys have been deemed not to be "citizens of Russia".

"As you understand, toys, especially imported toys, are not only not citizens of Russia but they are not even people," Andrei Lyapunov, a spokesman for Barnaul, told local media.

At the last rally, baffled police did not know what to do with the toys, which held up banners with the words: "I'm for clean elections," and "A thief should sit in jail, not in the Kremlin." After taking photographs and video of the plastic offenders, they asked prosecutors to investigate its legality.

The number of people, and their toys, wanting to take part has risen dramatically since then.

"It probably wouldn't be that popular if the reaction of the authorities hadn't been so harsh and absurd," said the activist Lyudmila Alexandrovna.

Authorities though are not willing to back down.

"It is possible that the people who have applied are inspired by their toys … and consider them their friends but the law unfortunately has a different point of view," said Lyapunov. "Neither toys nor, for example, flags, plates or domestic appliances can take part in a meeting."

The response to the original ban is typical of the new wave of demonstrations in Russia characterised by witty banners and a degree of absurdist humour. After a mass Moscow rally in December, the protest was re-enacted with Lego models and posted on YouTube within days. Toy rallies have caught on and taken place in four other Russian towns in the wake of the Barnaul protest.

Despite the ban, the group says it will look for another way.

One possibility, said the activist Sergei Andreev, is a solitary picket, which is allowed to take place without permission from local authorities under Russian law.

"We will stand up one [toy] and the rest will sit on a bench not far away," said Andreev.