Art for Change and the El Barrio Arts Cluster are proud to present Soldaderas, a solidarity mural by artist Yasmin Hernandez located at Hope Community's Modesto "Tin" Flores Garden.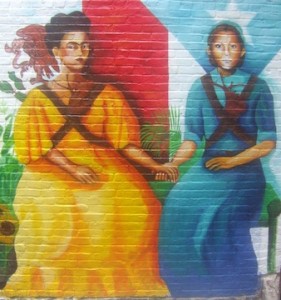 Soldaderas Mural in East Harlem
Soldaderas celebrates the legacy of two remarkable women, Frida Kahlo and Julia de Burgos, both who shared a profound love for their culture, their people and their country, and who used art as a weapon for change. Frida and Julia are known for bleeding their struggles as women, in a colonized context on canvas and paper, and for looking at society with a critical eye. Fearless and holding hands, Frida and Julia represent symbolically the possibilities and potential of two communities coming together in history, struggle, and aspiration.
In a continued social, political, and economic landscape that engenders division, through Soldaderas, artist Yasmin Hernandez explores the historical connections that exist between the Mexican and Puerto Rican experience. Soldaderas articulates the solidarity that artists and Art for Change aspire to build in our community of East Harlem and beyond.

Festivities include:
•Blessing of the mural by the Kalpulli Huehuetlahtolli Mexica Dancers
•Tribute to Julia and Frida from La Bruja!
•Poetic Procession to 105th and 5th Ave. followed by a candlelit vigil

The term "soldaderas" was used during the Mexican Revolution of the early 20th century to describe the women who fought along side Pancho Villa and Emiliano Zapata.
This video is part of the UCLA Chicana Feminisms Digital Story Archive. http://www.chicano.ucla.edu/center/default.asp
This